Day and
Night Glimpses
of
Wildlife
at
Tohono Chul, Tucson, Arizona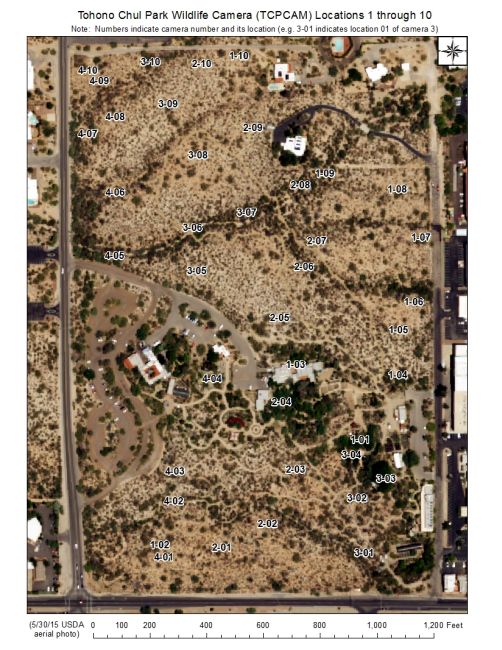 Click on numbered locations to see photos taken by wildlife cameras in the park. Each active link is denoted by the number of the wildlife camera and the sequential number of its location (for example, location 2-03 indicates the third location where the second wildlife camera was placed). There are ten locations for each of four wildlife cameras, and eighteen different Sonoran animal species were photographed by the motion-activated wildlife cameras. How many can you find?

If fewer than twelve photos of animals clearly identifiable were taken by the motion-activated camera at a location, they are displayed. If twelve or more photos of clearly identifiable animals were taken a the location, twelve representative photos are displayed.

Most of the temperatures recorded in the footer of the photos are probably accurate or nearly accurate and give an idea of the ambient temperatures at which the animals were photographed. Ignore inaccurately negative temperatures. The cameras take color photos in the daytime and black-and-white photos at night.
Frequently Asked Questions
Return to Sonoran Wildlife Portal